The HP Discover conference in Las Vegas (June 9-13, 2014) cast a laser-like focus on all-flash computing with the announcement of the HP 3PAR StorServ 7450 All-Flash Array. This array leverages SanDisk®'s 1.92TB Optimus Eco SAS drives for high capacity and high performance.
The move highlighted HP's path to flash-enabled data center infrastructure – especially for Big Data, Analytics, OLTP, and High Performance Computing (HPC) – all of which require support for extremely large datasets, and for extremely fast performance.
The system addresses important purchasing criteria of all-flash arrays: their performance, capacity, cost of acquisition, reliability and product endurance. On all counts, the system specifications demonstrate HP's due diligence to make sure customers know the value proposition for flash-based arrays.
To provide more details, HP and SanDisk have produced a co-branded white paper that walks through the product specifications, along with the IT and business benefits it brings to customers – Download the document here: HP and SanDisk Partner for the HP 3PAR StoreServ 7450 All-flash Array
Key Features of the HP 3PAR 7450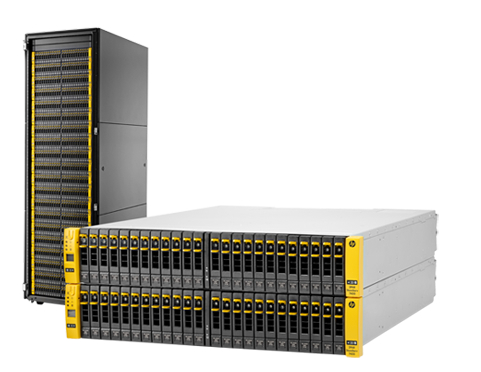 HP's June 9 announcements at HP Discover listed these key features for the system:
900,000+ I/O Operations per second (IOPS)
Sub-millisecond response time (0.7 ms)
Cost of acquisition less than $2/GB
Six-nines availability (99.9999% uptime)
Five years product life warranty
Up to 24 drives per enclosure
These specifications speak to the check-list of questions that many customers have developed regarding flash and all-flash arrays when shopping for storage arrays. They have heard many things about the cost per GB for solid-state drives (SSDs) being higher than that of hard-disk drives (HDDs) – or how to gauge flash endurance after years of use.
However, advancements in the state-of-the-art for flash – including software that watches over flash cell wear, and pricing trends in the flash storage marketplace, have led to more cost-competitive products. This is particularly true when you compare the the Total Cost of Acquisition (TCA) of SSD-based systems with that of HDD-based systems. Flash' high performance levels allow customers to get more performance from fewer "footprints" in the datacenter, saving on operational costs like power and cooling.
HP has built on the evolution of flash technology – and woven it into an all-flash array that supports a full portfolio of Tier 1 data services and HP OneView management software. The 3PAR 7450 system combines all of those elements into a single, unified all-flash array for enterprise and service provider data centers.
3PAR 7450 @ HP Discover Sessions
David Scott, Senior Vice President and General Manager of HP Storage, outlined the 3PAR approach to all-flash arrays in his presentation about the 7450 announcement. This talk was so well-attended on Tuesday morning, with standing-room-only attendance, that HP added another session on Wednesday to allow more customers to hear it.
In his session, Scott said there would be a tipping point to greater adoption of all-flash arrays – and new systems like the 3PAR 7450, that are designed to deliver more performance, in less space, than many competing storage arrays. But that performance must be accompanied by availability, backup and management capabilities to meet enterprise service-level agreements (SLAs).
Enterprise Features Key to Mainstream Adoption
Following that description of the 3PAR 7450 array, Scott interviewed three large HP Storage customers were interviewed by Scott, including United Parcel Service (UPS), United Airlines and Opus Interactive, a hosting cloud service. All three customers – not using the 7450 yet – spoke about their need for central-site management of storage, and for high performance storage to keep pace with the increasing data demands of their businesses.
The Enterprise Value Proposition
For me, it was interesting to see that these large customers, whose panel discussion in the 3PAR session immediately followed the announcement news describing the 3PAR 7450 all-flash array, appeared to be comfortable with the value proposition, even if they had not committed to installing it, or to using it in early support programs.
Whether they install it, or not, in future, it appears that HP has, indeed, done its homework in assuring customers that going all-flash fits into a strong enterprise value proposition. That means that the layers of Tier 1 data services – replication, thin provisioning, back-up and recovery – are in place, and in line with other 3PAR storage array capabilities that protect SLAs and security.
HP's Theme @ HP Discover: The New Style of IT
All of this focus on flash tied in with the central theme of the three-day HP Discover conference: "The new style of IT." HP CEO Meg Whitman came back to this theme in her conference speeches, speaking about infrastructure changes to keep pace with new, and evolving, processing and data demands.
"For you [the customers] to go faster, the infrastructure is the foundation for that new style of IT," Whitman told the HP Discover opening session on June 10.
This phrase – The New Style of IT – means that HP is addressing the big trends in the marketplace that IDC calls "The Third Platform" and Gartner calls "The Nexus of Forces." These are the biggest megatrends in the data center: Big Data/Analytics, Cloud Computing, Social Media and Mobility. In its HP Discover presentations, HP varies it a bit, combining Social and Mobility – adding "Security" to its short list of the megatrends in IT.
It's clear that flash is an enabler in that infrastructure, an accelerator for applications and databases and analytics that are working with very large datasets – and must reach their solutions in record-fast times.
Flash is being adopted across the data center, for use in servers and storage arrays and integrated systems and appliances. What's driving that adoption is the need for more speed and capacity than today's storage infrastructure, largely based on mechanical hard-disk-drives, is delivering. Flash, with its solid-state, nonvolatile memory is both fast – and protective of the data being stored within SSDs.
As more and more customers learn the details about all-flash arrays, the debut of the 3PAR 7450 is an important step in the direction of broader, mainstream adoption of these kinds of storage systems.